Pesticides that are advected from urban and agricultural regions to streams and other water bodies in the natural environment might deteriorate the health of ecosystems.The pasticides might become environmentally toxic in very low concentrations depending on the toxic characteristics of each substance and the combined toxicity of pesticides found in the specific ecosystem. Within the Alexander estuary research at the Israeli center of estuarine research 150 water samples were collected at the estuary head during times of base and flood flows during the years 2014 to 2018 and analyzed using HRMS to identify and quantify pesticides concentration. An average of 34 pesticides was identified during base flows and 45 during floods. The highest concentration that was measured was 1.4 µg/L in base flows (the insecticide Imidacloprid) and 55 µg/L during floods (the herbicide Diuron ). 
A calculation of the combined toxicity indicate that the pesticides are toxic to invertebrates and seaweeds whre the median combined toxicity was 110% during baseflows and 155% during flood events. The period after a flood event was concluded, represent the highest stress on the system because the present a combination of high pesticide concentration and long exposure time. Additionally, we found prolonged chronic toxicity to plants, seaweed, Arthropoda and fish from nine different pesticides.
The data indicate that the Alexander estuary is exposed to prolonged toxic stress throughout the year accompanied by sporadic events of acute toxicity in most cases as a result of flood events. We propose restrictions should be made on the application protocol of Diuron and a continued monitoring of pesticides in the estuary mainly during flood events.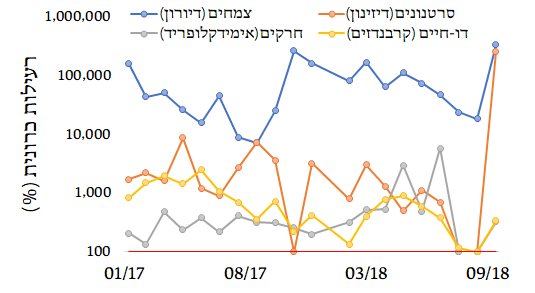 רעילות כרונית (ציר אנכי בסקלה לוגריתמית) של חומרי הדברה מייצגים לקבוצות טקסונומיות שונות לאורך שנתיים של זרימות בסיס בנחל אלכסנדר. הקו האדום על 100% מייצג את סף הרעילות הפוטנציאלית.